It all started a few years ago when a friend called me and asked if I wanted to travel to the middle of nowhere to see if my dog could earn a Farm Dog title.  She said, "…it's a little like an AKC Canine Good Citizen but for farm dogs".  She thought my Cattle Dog, Moxie would be great at it.   "Plus they have great ribbons", she said with a chuckle.  So off we went to some little farm in Kansas, where Moxie got her Farm Dog title!  I was hooked!
I found that competing was fun, and there was so much more to try.  Me and my dogs have competed in everything from tricks to obedience.  I'm having a blast and I really want other people to experience the fun I'm having.  Although the pretty ribbons are nice, the joy for me is working as a team with my dogs and meeting other like minded people along the way.  I never realized how much competing would strengthen my bond and build cooperation with my dogs.
The American Kennel Club (AKC) offers opportunities to compete and title in many areas.  You don't need a pedigree either.  Even "mutts" can participate.  Both of my dogs are of questionable lineage, but are registered under the AKC alternate listing and the AKC Canine Partners.  This allows us to compete and title in just about everything except conformation.  Thanks to virtual titling, you don't even have to travel in order to earn a title.  You can participate in so much with video submission.  Even my reactive/aggressive dog can participate in virtual programs.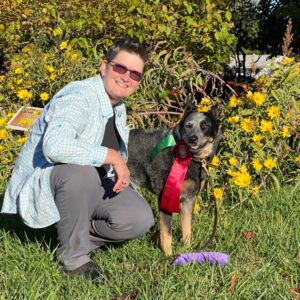 Because of my increased interest in competitive dog sports, Wagmore Canine Enrichment periodically offers competition level courses.  We will continue to offer these courses in hopes that more people will get the competitive bug and come play with us.